Banxso Review: An Ultimate Guide!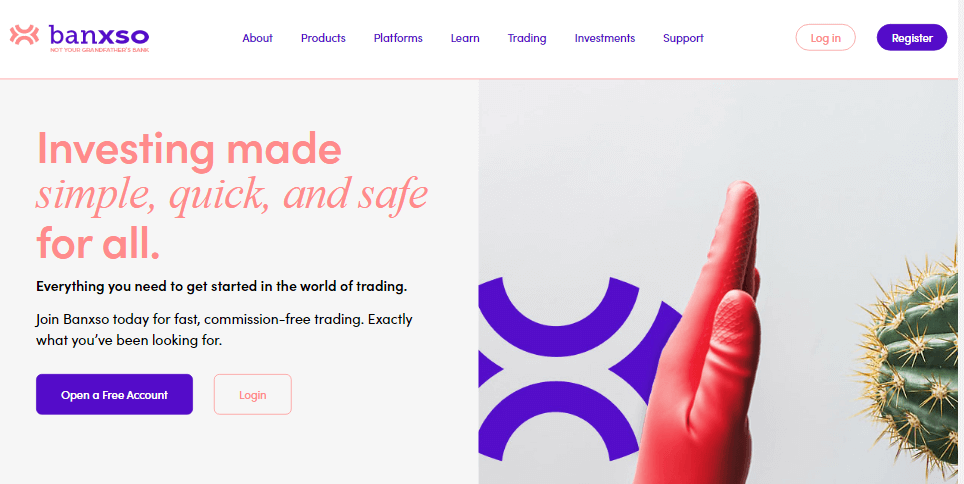 Overview of Online Trading Platforms
With online investments and cryptocurrency witnessing massive popularity, the advent of online trading platforms has made the whole trading process easier. Online trading platforms are simply those trading websites or applications where investors can open, close, and even manage their market positions with a financial intermediary. Such intermediaries provide users with a common platform to trade and exchange their shares and cryptocurrency. Finding the best online trading platform that suits your requirements and affordability is a tough job. So, it's always advisable to look for online trading platforms that offer numerous features with low fees.
What Is Banxso?
To simplify online trading for novices and expert investors, Banxso is an online trading platform that provides the best trading strategies, optimum customer support, and the right technology. As its tagline says 'Not your grandfather's bank,' Banxso aims to make the stock trading process hassle-free by curating a multiple-service platform with stocks, cryptocurrency, indices, forex, and bonds under one roof. The platform has a team of experts to help new traders understand the rules of stock trading online and ensures transparency in every form. Let's know more about Banxso and how it fits your trading stocks needs under one umbrella!
Features of Banxso
Here are some unique features of Banxso:-

Personalized Stock Trading Platform
Banxso understands that every trader has their own interests and aims, which is why it offers a personalized investment experience. For this, their experts firstly help traders understand what online trading is all about, especially in the niche they are planning to explore. Thereon, the trader is provided with the right trading strategies and useful insights at every step of the process.
Advanced Technology Tools
Banxso has utilized the right trading tools to help investors trade in real-time. They provide traders with the latest insights and reports in the niche they are investing in. These advanced tools help investors make the most of their trading journey and multiply their earnings as well as assets.
Low Fees
Another key feature about Banxso is that they offer low-priced services to investors. They ensure that you are provided with lower profit margins with more potential returns. 
Expert Assistance on Stock Trading
Banxso has high-tech technology tools offered on the line for the best expert assistance. You can access their mobile app, or live chat with a specialist on the website to find the answers to all your queries. Banxso has also created a trading academy and a knowledge center with all the insights and resources for new and expert investors alike.
Assured Transparency and Safety
To provide every investor with a safe trading journey, Banxso ensures transparency in their process with the help of regulators to monitor everything on the platform. Moreover, there is no hidden fee you will be asked for or any deposit fee required to open an account on Banxso.
How to Open a Banxso Account?
Here's how you can open a free Banxso account:-
Visit the official website of Banxso and click on 'open a free account.'
You will be redirected to their signup page. Fill in your personal details. Create a password for your account and then click on submit.
Once you have created your account, you will have the main page, where on the top right side, you need to complete the details by adding your address, date of birth, and account currency.
Now you can deposit money to your account by contacting a Banxso expert for the step-by-step procedure.
The user can also add multiple accounts, including the Banxso Demo account service for practicing trading for new investors.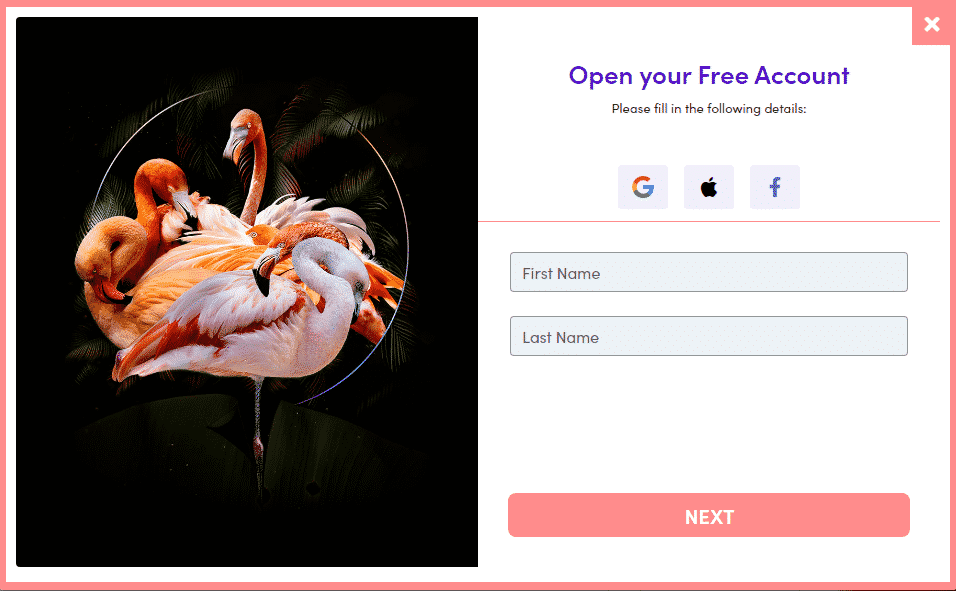 Banxso Demo Account Service
Banxso Demo Account service is mainly for new traders that are still learning the rules of online trading. You can create a new demo account after completing your signup process at Banxso and you will be ready to practice and hone your trading skills with Banxso.
Types of Trading Products Offered by Banxso
Banxso offers five flagship products, i.e. forex, stocks, indices, commodities, and cryptocurrency. Let's take a look at each of these products.
Forex
As forex is gaining massive popularity in the present era, Banxso provides its investors and traders with a Forex options trading account. This product lets you predict the forthcomings in the forex market and accordingly you can buy the right to take a currency pair at a particular exchange rate in the future. For this, the forex traders pay a certain minimal fee amount to Banxso which is non-refundable if you later decide to pull out.
For its Forex traders, Banxso offers 24*7 assistance, diverse tech tools, like chain tools, analytics, and risk management tools, as well as a wide range of currency pairs to choose from.
Stocks

Stocks and shares are preferable options for trading these days. To help you in stock trading with ease, Banxso provides you with the right tools, trading strategies as well as data algorithms to ace your trading prowess. Additionally, you will be aware of fresh market updates provided by Banxso specialists as well as 24*7 support to answer your trading queries. Apart from this, signing up at Banxso for stock trading also provides you with insightful resources to keep you informed and educated about the trading world.
Indices
If you are an indices investor, Banxso has a unique offering of varied indices, the latest insights and resources as well as specialist support just for you. Opening a Banxso account to trade indices, you will be provided with international market updates, 24*7 support from the Banxso team of experts as well as an array of indices to trade.
Commodities

Commodities trading is considered the oldest type of trading and Banxso has made sure to add it to make the platform accessible to old and new traders alike. The three types of commodities trading offered by Banxso are:-
Energy Commodities
Soft Commodities
Precious Metal Commodities
You can choose the right type of commodities trading as per your preference and style and then utilize the varied array of resources on Banxso to make the most of it. Banxso ensures that its traders are well-informed about different commodities and their current market updates.
Cryptocurrency
Cryptocurrency has created quite a raging hype in the present world. Banxso believes that every trader should have the knowledge and awareness to take the right precautions while trading crypto. Opening a crypto account with Banxso means that you will be well-educated about the cryptocurrencies on the rise as well as how to trade them well to earn more.

Types of Trading Platforms Offered by Banxso
Banxso has created two main trading platforms: MetaTrader 5 and Mobile Platform. Let's understand how these two platforms work:-
MetaTrader 5
This Banxso platform is curated as a 64-bit multi-asset platform that can efficiently perform workable trading operations. It is mainly for traders operating beyond forex and comprises smart tools, a simple trading system as well as a multi-currency tester. Moreover, MetaTrader 5 also carries out technical and fundamental trading analyses, surrounded by an MQL5 development environment, and provides the latest financial news.
It is specially made for traders that want to reach beyond forex instruments and work with an all-in-one multi-asset trading platform. What's even unique is that it offers market depth (DOM) as it covers the centralized as well as non-centralized markets counting in stocks, trading instruments, and futures.
Mobile
To make trading more accessible anywhere and anytime, Banxso has created a mobile platform for Android and iOS. The mobile application allows Banxso users to perform trading functions easily on their screens and access financial resources on the go. You can also check the status of your account and view your trading history via the mobile app.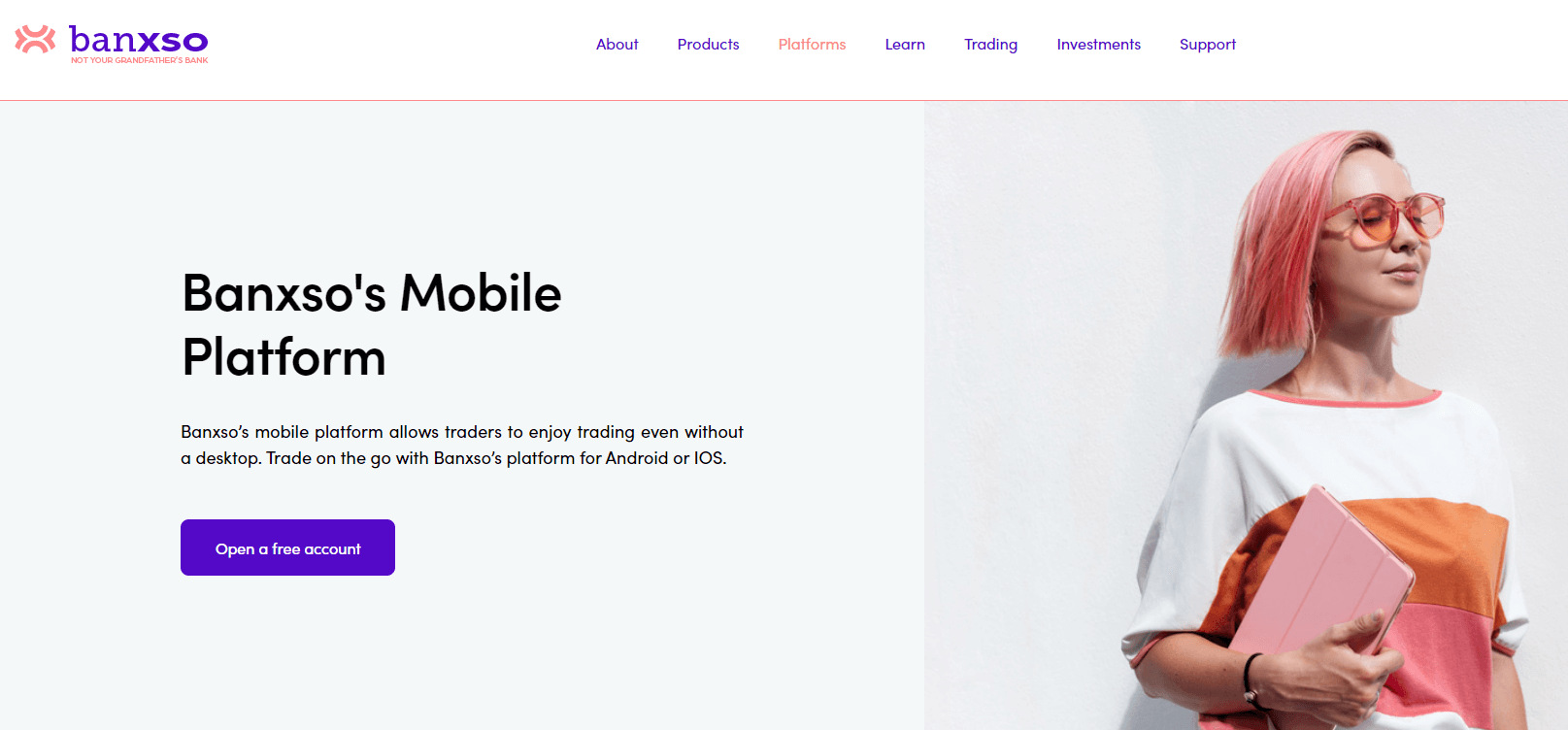 Educational Services & Investment Strategies by Banxso
Banxso strongly believes that the right education in trading can equip everyone with the best strategies to thrive in the present world. This is why they have created a wide range of resources such as online courses, trading ideas, and strategies, and webinars for the investors. As a Banxso trader, you can avail complete access to these resources and improve your trading skills as per your preference and needs. 
You can also sign up for their online courses covering cryptocurrencies, stocks, indices, commodities, and currencies. These courses also include webinars from trading experts around the world as well as the latest trading strategies you must know. Traders can also avail of personal coaching offered by Banxso in which you will be mentored by a trading specialist in carving the right strategies to become an ace trader.
Banxso Customer Support
Banxso provides optimal and full customer support to all traders at every step of their trading journey. You can reach out to the Banxso team via email by sending your queries to support@banxso.com and you will get a reply within 24 hours for sure. You can also call them at +27-080-099-7915. For a personal conversation with a Banxso specialist, you can visit their local embassy Byls Bridge Office Park Building 14, Block B Corner Olivenhoutbosch Road and, Jean Ave, Centurion, 0157, South Africa (only after getting an appointment on Calendly).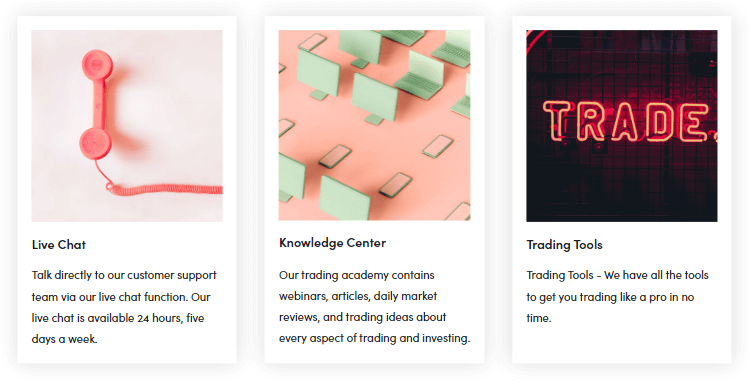 Why Choose Banxso for Trading?
Here are the top reasons why you should choose Banxso for trading:-
Low Commissions & High Return
The best part about trading with Banxso is no deposit fee or hidden costs in opening your account. Every trader is well-informed and equipped with the right knowledge to ensure that they avail high returns and more income.
Access Financial Tools & Technology in Real-time
Another unique feature of this platform is its real-time tech tools and technology which brings trading to your fingertips. Its user-friendly interface and 64-bit multi-asset MetaTrader 5 is amongst the most advanced technologies to be ever seen in financial markets and online trading platforms.
Insights & Resources for Every Trader
Banxso's specialized team of financial experts is here to educate you with the insights and latest updates to help you in your trading journey. If you are a novice trader, then you will be provided with online courses, webinars, and personal coaching to ensure that you are well-informed to start trading.
Conclusion
Banxso is a perfect platform for those new to the world of online trading and those who are looking for the right education to understand trading at its best. It can assist you in unraveling trading strategies for your online trading, along with accessing the right tools and technology to become an ace trader. Even though it's a relatively newer platform, it is slowly becoming a favorite amongst traders and investors with its useful tools and services on offer.
FAQs
Is Banxso Legit or Not?
Yes, Banxso is a legit trading platform regulated by the Cyprus Securities and Exchange Commission and its operations are under XS Services Private Limited.
What is Online Trading?
Online trading simply refers to the exchange of financial products, such as stocks, commodities, crypto, and indices, among others, online via different exchanges. Online traders usually keep an eye on the financial markets to find the best point to buy or sell their financial products and leverage higher margins on the side.
What Banxso Offers?
Banxso is an online trading platform that believes in providing you with the right tools and technology that can make the whole trading process more seamless and simplified for every trader. By using Banxso, you can trade with five types of financial products, i.e. cryptocurrency, indices, stocks, currencies, and commodities. Banxso also aims to educate the traders with its diversified online courses, webinars, and personal coaching services. 
What Makes Banxso the Right Platform for Online Trading?
Banxso offers the right tools and technology for online traders, along with useful insights into the trading world. In addition to this, the platform charges no deposit fee or charges for opening a new account and provides numerous resources for traders to become more aware of online trading and it's complications.