China, India, and Turkey's Proposition to Ban Crypto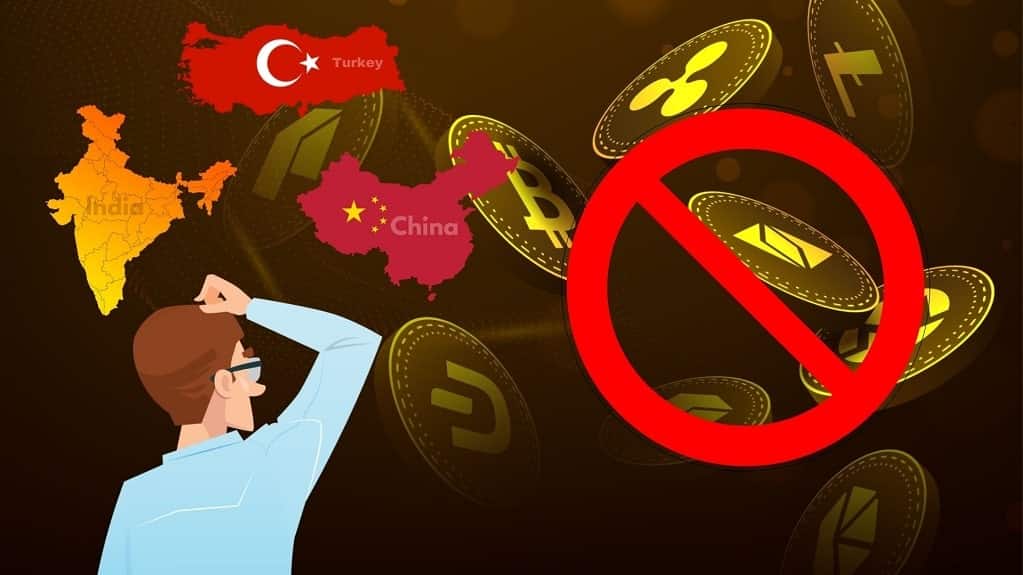 The rise of Bitcoin has initiated different responses among countries. The government of China, India, and Turkey propose to ban this digital asset. However, countries like the US, Iran, and Germany set to make it legal.
Since Turkey's central bank prohibited the use of crypto coins in trade, the Bitcoin share fell 4%. The central bank cited the crypto transaction will create transactional risk in the trading system. Moreover, payments may further cause non-recoverable losses for parties doing a transaction and undermine the confidence in methods used for payment purposes.
India and China are also considering a ban on Crypto use. The People's Bank of China said it plans to block complete access for all domestic and foreign crypto coin exchanges and websites. This restriction will bring a halt to mining and traditional activities in China. However, the country is working on introducing its digital currency. Mongolia in China has already banned crypto mining operations.
Countries Moving Opposite Direction
Although these countries are banning the crypto coin, some countries are going opposite. One such country is Iran, which is known for strict free inquiry and debate, opened its banking system allowing crypto payments.
Similarly, Germany from July 1 will be allowing all its money managers to invest at least 20% of fund holdings in crypto coins. According to German Bitcoin advocates, the law will help boost Germany's economy and strengthen the stature of Bitcoin's distinct asset class.
In the United States, FIS Ventures has announced that customers dealing with commercial banks conduct the transaction using Bitcoin. Similarly, New York Digital Investment Group, a subsidiary company of Stone Ridge, mentioned that they have teamed up with Quontic, a leading New York-based digital bank, to work on Bitcoin Rewards in debit cards. In the US, Bitcoin users relied mainly on FinTech companies like PayPal and Square or with Kraken for commercial transitions.
Companies coming Together
In March, New York's leading investment bank Morgan Stanley said that the bank is working towards offering Bitcoin funds for all its high net-worth clients. Tesla, the electric car company, invested $1.5 billion, which helped the crypto price rise by 20% in one day. Presently, around 25 public companies are investing a total of $4 billion in Bitcoin.
Harsh Criticism
Although Bitcoin is gaining a good market, the crypto coin is facing some harsh criticism. The British watchdog, Financial Conduct Authority, said that investors should be ready to face some loss. It has already warned that there will be a downturn in coming years, so be prepared.