Where Will Musk's Twitter Stake Take the Dogecoin?

Dogecoin was created to make a joke about the first cryptocurrency, Bitcoin. Later, it was backed by Elon Musk as it is one of the "people's crypto." Despite the unusual story, it got popular in 2021. It is one of the largest cryptocurrencies by market cap.
It was created by Billy Marcus and Jackson Palmer in 2013 with the canine-faced logo, intentionally misspelled as 'doge.' It focused on community building, gathering funds to contribute to society, such as spending raised funds to send the Jamaican team to the 2014 Olympics.
Like many other cryptos, it also runs on decentralized blockchain technology that stores all digital currency transactions. Still, now many analysts do not treat it as an asset, but it can be used for payments and purchases in the future. Besides that, there is no lifetime cap on the number of Dogecoin, which means it is highly inflationary and very challenging for speculative price gain.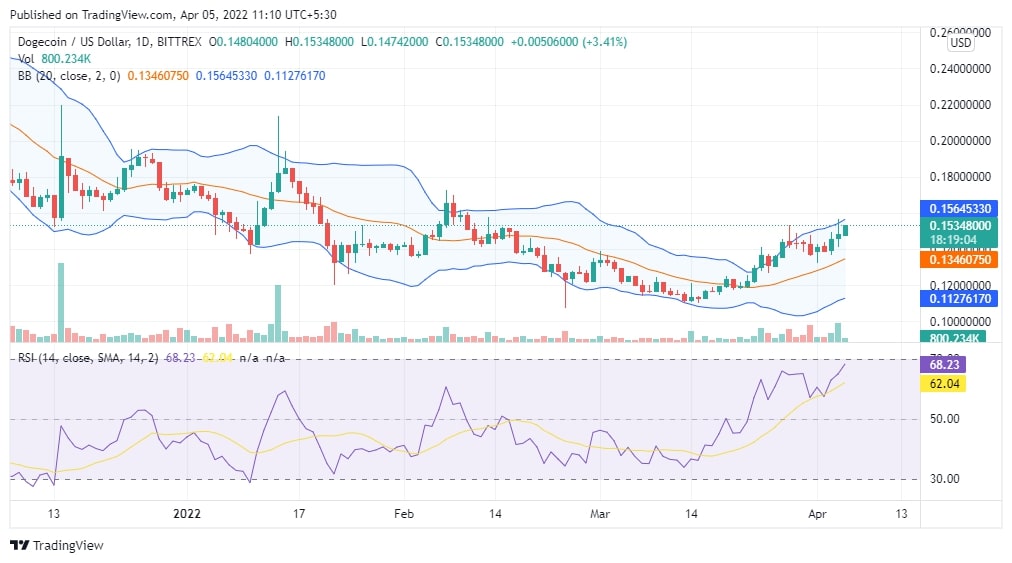 At the time of writing, the price of Dogecoin is trading around $0.1545. The chart is very bullish in the short term, and most of the technical indicators support the bullish view.
After consolidating for the last three months around the $0.1188 level, it is now forming higher lows in the short term, but will it last long? The truth is none can predict the movement of meme coin because it is mainly influenced by market news.
On the daily chart, MACD and RSI are bullish. Moreover, candlesticks have taken a support level around the baseline of the Bollinger Band, which suggests strong bullish movement. Both volatility and volume are increasing on the daily chart.  
Indeed, it is suitable for short-term trading, but it can be risky if you do not have a stop loss. Now, the $0.14 level will work as a support level, and the $0.18 level will work as a strong resistance level. Will it cross the level in the long term? To get more details about the future of Dogecoin, traders should explore experts' opinions and research its technicals and fundamentals.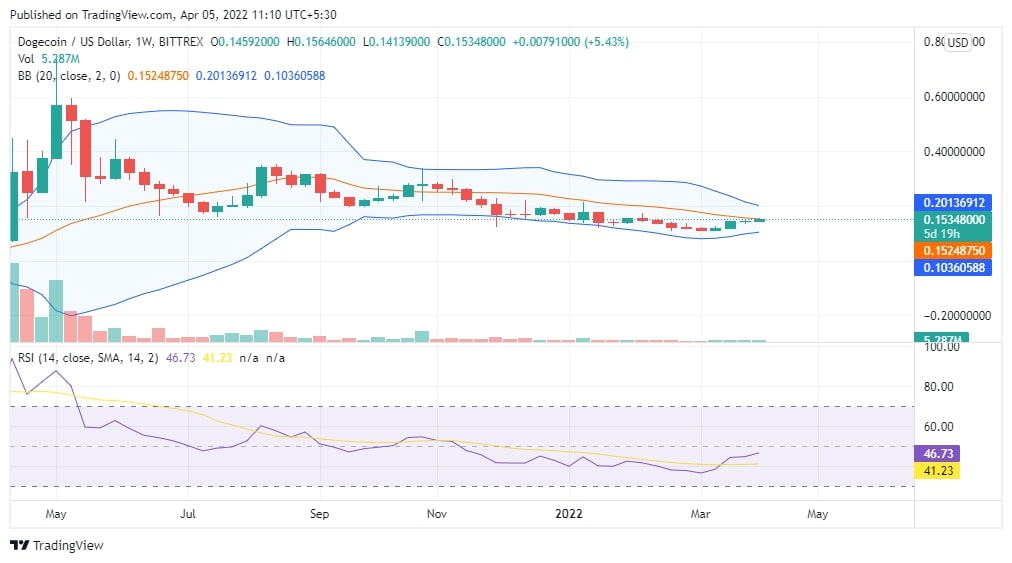 On the weekly chart, MACD has made a bullish crossover; candlesticks are around the baseline on the BB, and RSI is stable at 50- all these suggest trend change.
We think it is a good time to invest both for the short and long term because it is backed by Elon Musk. A single tweet from him can disrupt all fundamentals and technical analysis, so if you are active on social media, you should invest in this coin.